Quality Self Defense Products
Welcome to Self Defense Weapons. Our company is committed to helping you protect yourself and loved ones with only superior quality Self Defense Products. Many of our products provide you with peace of mind while others give you hours of enjoyment.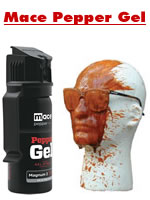 When it comes to self defence we offer a large variety of products from highly recognizable companies, such as stun guns by Stun Master™ and Runt™. We offer pepper sprays by Mace™, Wildfire™ and Peppershot™. When shopping for self defense items please don't forget to protect your home with our wireless home alarms and home security cameras.
Your safety is our number one priority! if you don't see it on our site, please contact us and we will do our best to help you find what you are looking for. Or feel free to make suggestions on items you would love to see us carry.
Along with our long line of defense products we carry a variety of other products for the enthusiast, such as blowguns, sling shots, throwing stars and self-defense training videos. Browse our selection and order today to enjoy the peace of mind that comes with knowing that you and your family are protected.
There are several perks to shopping with Self Defense Weapons. We offer Free Shipping on all orders over $75.00 (Continental United States orders only and on standard ground shipping.)
We also offer a 90-day money back guarantee on our self-defense items. If you don't feel more secure and self-confident with your purchase, you can return it for an exchange or refund within 90 days -NO QUESTIONS ASKED! That's right, if you're not happy with your purchase, we aren't either!
Service
Customer Service
All orders are shipped within 1-2 business days. We make every effort to get your order out to you as quickly as possible. All major credit cards are accepted.

*IMPORTANT NOTICE* It is the buyers responsibility, not the seller, to ascertain and obey all applicable local, state, and federal laws regarding the possession and use of any item offered by Self Defense Weapons. If you are unsure, please contact your local or state authorities.
Be assured all orders placed on Self Defense Weapons are completely secure.