Runt has done it again and produced a powerful new sleek design stun gun that is easily concealed in the palm of your hand. This stun gun is compact with dimensions of only 4¼ x 1⅝ x 1 inches.
This stunning device packs a powerful punch with its 80,000,000 volts/4.5 milliamps. Making it the most powerful stungun on the market today.
This unit is totally RECHARGEABLE. Yes, that means you NEVER have to buy batteries. Rechargeable RUNT stun guns will fire 300 to 500 times on a full charge. Full charges are done by initially charging it for 10 to 12 hours. To make sure your unit is working properly test fire the device once a month by firing the unit in the air for 2 secs.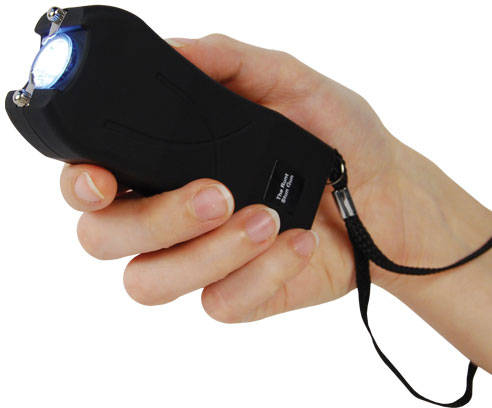 What makes RUNT STUN GUNS unique is their "Firing Pin" design. All units have a wrist strap attached at the bottom of the device, where the strap attaches to the stun gun is pin. If this pin is not in place the device will NOT fire. This safety feature was added so the victim of assault defending themselves with a stun gun can not have the stunning device removed from their hands and have their assailant use it on them instead. If someone tried to remove the RUNT from you and the wrist strap was on your wrist it would break away making the unit worthless to the other person.
The Rechargeable RUNT Stun Gun is available in 6 stunning colors. Choose black, purple, red, blue or pink at checkout.
Stunguns cannot be shipped to Hawaii, Massachusetts, Michigan, Illinois*, Rhode Island, Wisconsin*, or Connecticut.
*Can be purchased with FOID/CCW permit.
Customer Service
All orders are shipped within 1-2 business days. We make every effort to get your order out to you as quickly as possible. All major credit cards are accepted.

*IMPORTANT NOTICE* It is the buyers responsibility, not the seller, to ascertain and obey all applicable local, state, and federal laws regarding the possession and use of any item offered by Self Defense Weapons. If you are unsure, please contact your local or state authorities.
Be assured all orders placed on Self Defense Weapons are completely secure.