Small Stun Gun
Stun Master's Li'L Guy Stun Gun is small and compact but don't let this fool you, this little stun gun packs a mean punch with its 60 million volts/4.4 milliamps of pure power. You can just see and hear the power come out of the heavy duty metal prongs as you press the on button.
When we call this little we mean this unit is only 3¾" x 1½" x ¾" and will fit nicely in the palm of your hand, pocket or purse.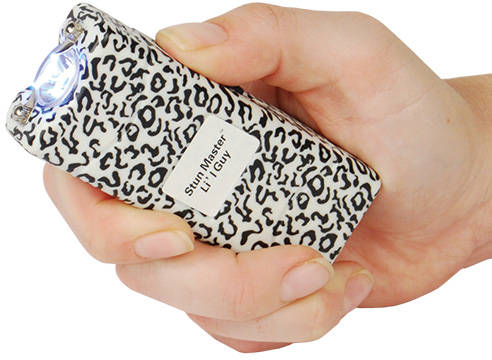 Li'L Guy has a super bright 120 Lumens LED flashlight at the top of the unit.
This stunning device is rechargeable so no more expensive batteries to buy. The charger is built into the unit, just flip the plug out to charge and when done charging flip it close again. Very easy to operate.
To operate the stun gun you will notice the buttons on the side. When to safety switch is off when in the down position. When in the middle position the LED flashlight will be activated. The up position of the switch the voltage is turned on and ready to release once the trigger is pressed.
Each Unit comes with:
FREE Nylon Holster
Rubberized coating for a non slip grip
Lifetime Manufacturer Warranty
The Stun Master® Li'l Guy Stun Gun is available in 6 different colors: Black, Purple, Red, Pink, Blue, and Animal Print.
Stunguns cannot be shipped to Hawaii, Massachusetts, Michigan, Illinois*, Rhode Island, Wisconsin*, or Connecticut.
*Can be purchased with FOID/CCW permit.
Customer Service
All orders are shipped within 1-2 business days. We make every effort to get your order out to you as quickly as possible. All major credit cards are accepted.

*IMPORTANT NOTICE* It is the buyers responsibility, not the seller, to ascertain and obey all applicable local, state, and federal laws regarding the possession and use of any item offered by Self Defense Weapons. If you are unsure, please contact your local or state authorities.
Be assured all orders placed on Self Defense Weapons are completely secure.