Kubotans are highly accessible, extremely durable, effective self defense weapons. They can be used for stabilizing your fist, applying pressure to sensitive parts of an assailant's body, or gaining leverage on an assailant's wrist or fingers. The Kubotans are made of aluminum and come in various colors. Attach your kubotan to your keychain so you always have it with you.
Available in Black, Red, Blue, and Silver
These are also very useful for womens self defense because they are easy to carry, conceal and are a very efficient force multiplier for any size lady. A kubotan can be used lethally or non-lethally as determined by the type of the attack. As long as you can move your hands, these will work to your advantage.
The handheld weapon has many different uses and applications; it can be used for control, joint locking, trapping and striking against soft tissue and bony targets and nerve pressure points. They are commonly used by bouncers or security personnel to control and constrain a person.
Are you looking for a self-defense solution that is easy to keep on your person or in your purse? In that case, you are looking for a grip Kubotan. This keyring stabbing defense solution was developed by the Japanese American martial art professional Takayuki Kubotan. Initially, the sleek hand sized defense tool was used by the police in Japan. As a matter of fact, Takayuki Kubotan taught martial art and self-defense techniques to the Tokyo police force before moving to the United States.
Today, it can only be said the Kubotan stick has enjoyed unrivaled success and is one of the top selling defense solutions in the world. There are a few different versions of the grip Kubotan available. It is manufactured in different finishes such as strong plastic, wood or steel. However, the best quality Kubotans are made from aircraft aluminum which makes it stronger. 
How Do You Hold a Kubotan?
You don't need to be a martial artist to hold a Kubotan. But, the way you hold it matters when it comes to improving its effectiveness. Hold it with the sharp end facing away from you. This simple hold makes it easy to stab towards an assailant or attacker. The grip should easily fit into your hand, and when held correctly, it will support any stabbing action you are forced to make.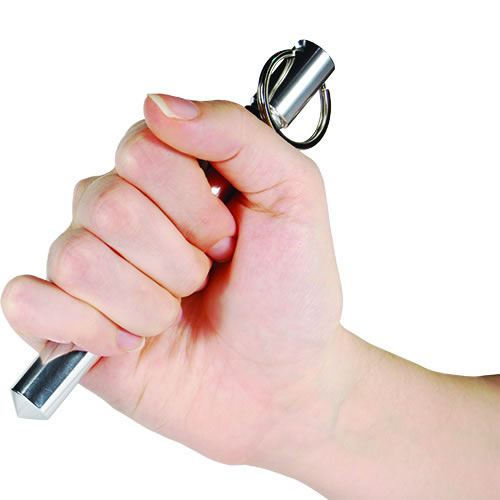 How Do I Use a Kubotan?
A Kubotan keychain is meant to be used to stab towards bony areas and nerve centers of the body to afflict pain. You can, however, use this self-defense weapon to stab other parts of the body as well. It all depends on what position you find yourself in at the time. Just a poke with this simple weapon can cause extreme pain thanks to its sharp point design.
If an attacker grabs hold of you, you will find that the Kubotan weapon can really help. It does not matter if you are held tightly. Even the slightest stab towards a hand or exposed area of the body will inflict pain. The slightest glancing blow at a knee cap or elbow causes pain.
The Benefits of the Kubotan:
Easy to use self-defense tool
Attaches to a keyring
Easy to store in a purse or bag
Store in a drawer or glove compartment of a car
Extremely lightweight
No specialized training or experience necessary
Made out of aircraft high-strength aluminium
Cost-effective
Carry it with you at all times without anyone knowing
Color Choice pink and white, or black and white
Only 5.5 inches in length 
Who Should Buy a Kubotan?
Many police forces in Japan still use a Kubotan. For many women, it is the perfect defense solution as it is easy to use, conceal and put away in a bag. A lot of people may not even think that you have an actual self-defense tool attached to your keyring. Men should also consider investing in a Kubotan. It is the one self-defense product you can keep in your pocket on your keyring and no one will know that it is there.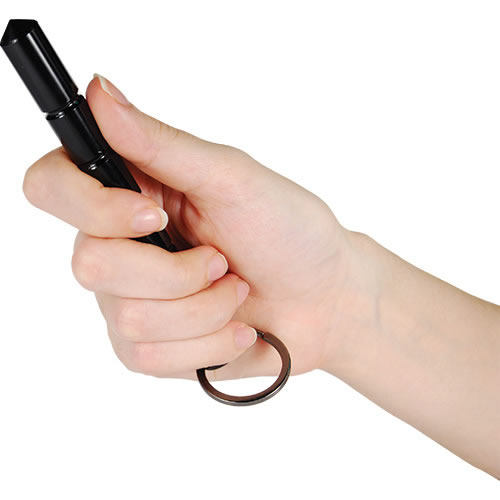 Place your order today and stop worrying about your own personal protection. 
Customer Service
All orders are shipped within 1-2 business days. We make every effort to get your order out to you as quickly as possible. All major credit cards are accepted.

*IMPORTANT NOTICE* It is the buyers responsibility, not the seller, to ascertain and obey all applicable local, state, and federal laws regarding the possession and use of any item offered by Self Defense Weapons. If you are unsure, please contact your local or state authorities.
Be assured all orders placed on Self Defense Weapons are completely secure.