Perfect for Around Your Home without Being Obtrusive
This is a bullet style IR Dummy Camera. It has a constant flashing red LED light. It is realistic looking and can be mounted just about anywhere. This model includes an easy adjusting bracket so it sets up in minutes.
Stop Thieves With a Fake Surveillance Camera
Burglaries are costly for homeowners and business owners even those who have plenty of insurance. They are more than just financial problems, they are also emotional ones. Being the victim of a break-in at home or work, whether you are there when it happens or not, creates feelings of vulnerability and anxiety.
Protect your home or your business with a security system. If you cannot afford an authentic system, do not worry. Now you can get a fake security system that looks like the real thing and will work like the real thing to keep thieves and robbers away. The only difference is the much lower price and the near zero maintenance.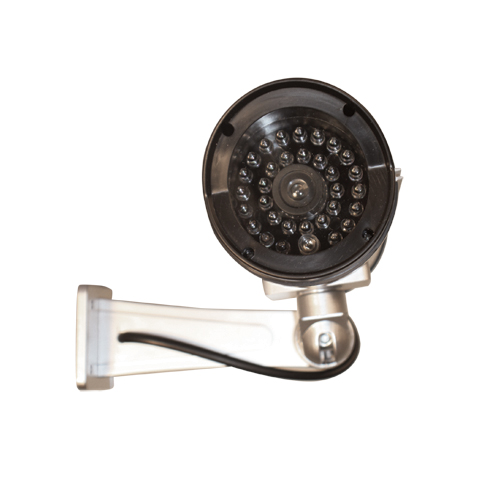 As Realistic as a Working Video Camera
These fake security cameras mount on the exterior or interior of your home or business. They come with blinking LED lights to make everyone think that they are recording everything going on.
The dummy camera is made out of the same material and design as a real one. The only difference is it does not really work to capture photos or videos. It only looks like it does with its constant blinking red light. (You can take the batteries out if you do not want it to blink at all.) It comes with a realistic video cable and is installed with screws to a wall with the included mounting plate.
It measures about 7 inches long and three inches wide, so it fits just about wherever you want it to do its job. It has a bullet design just like the real thing. The price is under $15 for each camera so you can buy as many as you need for your entire home, garage or business without worrying about the expense.
You never have to worry about subscription services or additional electrical bill costs. They run on AA batteries. Because they use LED bulbs, the batteries will last a long time before they need to be replaced.
The batteries are easy to change by just sliding the sun shade off and inserting 2 AA batteries (AA Batteries Not Included).
Specifications: Measures 6 11/16" x 8 1/4" x 3 1/8"
Customer Service
All orders are shipped within 1-2 business days. We make every effort to get your order out to you as quickly as possible. All major credit cards are accepted.

*IMPORTANT NOTICE* It is the buyers responsibility, not the seller, to ascertain and obey all applicable local, state, and federal laws regarding the possession and use of any item offered by Self Defense Weapons. If you are unsure, please contact your local or state authorities.
Be assured all orders placed on Self Defense Weapons are completely secure.