This wedge shaped Door Stop Alarm fits at the bottom of your door and stops the door from being opened. If someone does try to force it open, this stopper will wedge even deeper under the door preventing it from moving at all.
Prevents the Door from Opening
It will also start screaming out a very loud alarm sound that will immediately let you know someone is trying to gain entry where you don't want them to.
Of course, the person on the other side of the door will hear this too and they will know they have been found out. Hopefully, this will be enough to scare them off and abandon their idea of unlawfully entering.
Travel Security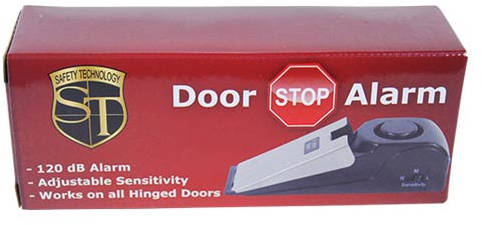 This is a great security device for when you're traveling or on vacation. Ever been awoken by someone trying to get into your room? The front desk makes a mistake and assigns your room to someone else also? It happens and you'd be freaked out because you don't know if there's a mistake or if someone is breaking into your room.
When you turn in for the night at your motel, put this hotel door alarm in place and you can sleep peacefully knowing that no one can get in. Not even the hotel staff. The safety door stopper keeps you safe by not allowing any entry unless you remove the wedge alarm.
Door Stop Alarm
The alarm stops only when the pressure is released from the doorstop metal plate. Closing the door removes the pressure and turns off the alarm.
There is also a movement sensor with adjustable sensitivity that will activate the alarm if it's tampered with. So if something tries to nudge it away, the noise will begin.
On/off switch is on the back of the alarm and includes a low battery indicator light. Uses one 9-volt battery (not included). 
Stopper Security
Features:
Prevents a door from opening and immediately activates an alarm.
Wedge-shaped design prevents an intruder from entering your home or hotel room.
The 120db alarm will scare away an intruder, alert those inside, and summon help.
Portable door security for your peace of mind while traveling.
No installation required.
Order your door wedge alarm now!
Customer Service
All orders are shipped within 1-2 business days. We make every effort to get your order out to you as quickly as possible. All major credit cards are accepted.

*IMPORTANT NOTICE* It is the buyers responsibility, not the seller, to ascertain and obey all applicable local, state, and federal laws regarding the possession and use of any item offered by Self Defense Weapons. If you are unsure, please contact your local or state authorities.
Be assured all orders placed on Self Defense Weapons are completely secure.