Having a pool is a great responsibility to the pool owners. You always have to worry about someone falling into the pool when you are not outside. The Pool Protector Pool Alarm will help set your mind at ease when you are cooking, cleaning or just watching your favorite TV episode.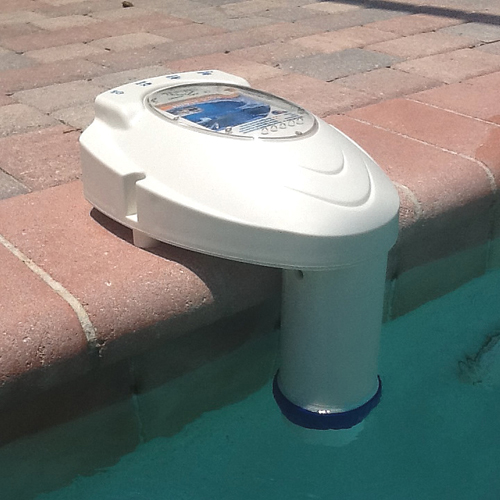 More than 900 children between 1 and 14 die each year in drowning accidents. In California, drowning is the number one cause of accidental death for children 1-4 years of age. But, do you really need these statistics to convince you to do everything you can to prevent this from happening to your child or grandchild?
The inground pool alarm is an electronic monitoring system that automatically sounds an alarm when children or pets fall into your unsupervised pool. It's portable, self-contained and lightweight. The unit is simple to operate.
Entry into the swimming pool will be detected by the inground Pool Alarm's electronic sensor, triggering a loud pulsating alarm at the unit and inside your house from the remote receiver. Installation is very easy. It sits on the pool deck as shown in the picture. It is very easy to use with control button operation and will automatically arm the unit once you are done swimming.
The Pool Alarm comes with a remote receiver with flashing light which can be mounted in your home up to 300 feet from the main unit. It comes with a 12-volt power supply. The Pool Alarm uses 6 D batteries (not included) which should last approximately one year. There is an audible low battery indicator that will sound at the poolside alarm and the remote receiver.
The Remote receiver can receive a signal from the pool sensor from up to 400 ft away.
IMPORTANT: The Pool Protector Pool alarm is not intended to replace any other safety consideration, adult supervision, lifeguards, fences, gates, or locks. The Pool Alarm may NOT detect gradual entry into the pool.
Customer Service
All orders are shipped within 1-2 business days. We make every effort to get your order out to you as quickly as possible. All major credit cards are accepted.

*IMPORTANT NOTICE* It is the buyers responsibility, not the seller, to ascertain and obey all applicable local, state, and federal laws regarding the possession and use of any item offered by Self Defense Weapons. If you are unsure, please contact your local or state authorities.
Be assured all orders placed on Self Defense Weapons are completely secure.